The dual circuit braking system has dash adjustable bias between front and rear brakes, with large diameter discs ( 304mm. / 12" ) all round. The front callipers are lightweight Lockheed AP Racing callipers or Wilwood racing callipers. The rear brake uses a Wilwood racing calliper, and a Wilwood spot calliper is fitted for the hand brake. These are mounted inboard to reduce unsprung weight. The stopping capabilities of the ST are truly phenomenal!!!(Make sure your shades are well secured)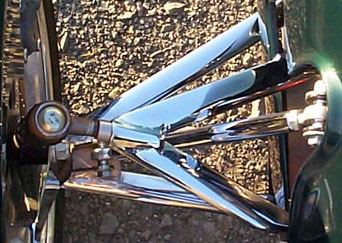 The F1 style aero-section double wishbone suspension system, has been designed without compromise to give fixed roll centres, constant track in bump or droop, and a complete absence of "bump steer". This gives the ST an amazingly crisp and reassuring feel. Suspension loads are fed via push rods through "rising rate" linkages to the inboard mounted, adjustable, lightweight, aluminium Pro-tech Race dampers; these are fitted with specially produced springs. The rear suspension comprises a specially made swinging arm, which again activates a rising rate linkage to another inboard mounted Pro-tech damper.
This carefully tuned rising rate suspension system provides several important benefits:
* It reduces roll more effectively than anti-roll bars on a three wheeler.
* It gives the ST a supple, compliant, yet positive ride.
* As more load is applied to the suspension, the higher the effective spring rate becomes. This automatically compensates for the comparatively large difference in weight between one person or two occupying the trike.
The Drive Train is likewise a specially designed assembly that cleverly incorporates a donor bike's rightangle drive hub, which is mounted inboard with the rear brakes. It drives the rear wheel via a heavy duty 630 'O' ring chain and sprockets, this gives a complete absence of the Jack-up problem that plagues most shaft drive trikes. The final drive transfers the power to the back wheel through a specially produced "cush-drive" unit, that ensures smooth delivery of power .