The key to any good performance vehicle is weight and weight distribution. This is even more important when it comes to electric vehicles. This is due to a rule of diminishing returns: you increase the weight it requires more battery power which in turn increases the weight further reducing performance, cornering capability and range. A downward spiral!
Every single component on the vehicle is designed to minimise the weight and optimise performance,handling and stability. The low over all weight gives the TAZR fast acceleration, efficient use of battery reserves and fantastic cornering.

The chassis is based around an optimised version of our F1000 space frame, fabricated from round and square tubing which is clad with riveted and bonded dural sheeting. The carbon/Kevlar composite reinforced bodyshell is likewise riveted and bonded to the chassis. The cavities are then filled with ridged closed-cell foam creating an extremely strong monocoque tub that is light and stiff yet has a high impact resistance.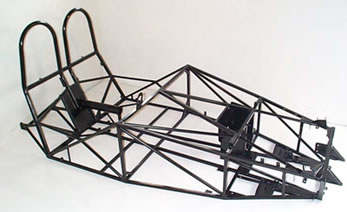 The TAZR uses a highly effective dual circuit braking system with adjustable bias. 300mm discs, and Wilwood racing calipers all round, combined with regenerative braking give the TAZR phenomenal stopping capabilities.
The TAZR uses high power three phase liquid cooled AC motors which are mounted just in front of the rear wheel, utilising a toothed belt to give silent and smooth transmission of power to the rear wheel.