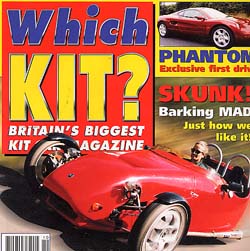 Exclusive First Drive
SKUNK SPORTS SPECIAL
Sweet Smell Of Success
The concept of a bike-powered three-wheeler may be nothing new, but the Malone Skunk aims to push the performance envelope to new highs, as well as introduce some great new innovations. The editor has been to see what it's all about.
I must confess that I was not a great enthusiast of the three-wheeler concept. Neither was I a great enthusiast of the using bike engines in cars...but I am now! With almost biblical clarity, the Skunk Sports Special has opened my eyes to a new world of motoring mayhem. A world where previously-held automotive conventions have been thoroughly trashed and a new world order is being established - well, perhaps that's a little over-dramatic, but the Skunk is certainly a real blast of fresh air. When you've driven just about every kit car on the market, such rushes of wind (a seemingly apt term in the current company) are both extremely rare and very welcome.

The Skunk is the brainchild of Jon Malone, of Malone Designs, and the concept came about after he built a three-wheeled go-kart for one of his sons, Jerome. When said youngster was a little older he presented Dad with £1000 of carefully stashed pocket money and asked him to build a fully-fledged road legal three-wheeler. Prototype number one was a somewhat more conventional trike (if such a thing exists), retaining the bike's rear swing arm and using traditional front wishbone suspension with outboard coil-over dampers. Jon had developed the car with the help of retired biker and classic car restorer, Tim Boswell. When Tim drove it for the first time, and without any front mudguards, he returned covered in cow shit and commenting that it went like stink - the new machine had a name, Skunk!

Jon's son had his trike, but everyone involved was so excited by the possibilities of developing the idea further that prototype number two was soon underway. It's this car which you see here, which has now been productionised into a self-assembly kit format.
Jon spent a long time on the styling of the Skunk and the end result is highly successful. Keeping the front-mounted engine as low as possible has allowed for a rakish, modern design that looks great from almost any angle. There's a hint of single-seater racing car at the front, but also clear bike connotations at the back. All in all, it's completely unique and very pleasing to the eye.

Inside the cockpit things are typically sparse. Malone has made its own seat shells. There's a single SPA rev counter with digital speedo plus a little fuel gauge off to one side. On the other side is a SmarTire monitoring system which is a requirement before Goodyear will sell you the F1 EMT 'run-flat' tyre used on the back wheel. Malone is adamant that a 3-wheeler weakness is the potential danger of a flat tyre on the single driving rear wheel. Goodyear's F1 EMT tyre can be driven quite safely without any air pressure in it whatsoever but, as a result, the company will not sell them without the vehicle being fitted with some form of tyre pressure and temperature sensor being installed.