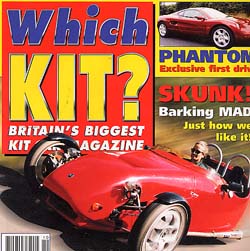 Exclusive First Drive
SKUNK SPORTS SPECIAL
Sweet Smell Of Success
Page2
The main body tub is bolted and bonded to an aluminium panelled (dural on the test car) spaceframe chassis made from both round and square-section Mig-welded tubing. Front suspension is aero-section double wishbones operating in-board coil-over Avo dampers via push rods and rising-rate top links. As the name suggests, a rising rate link means that as the suspension is compressed the effective rate of the spring and damper is increased.
The advantages of such a set-up are two-fold, primarily helping to reduce roll and, especially in the case of something as lightweight as the Skunk, helping to offset the negative effect of having a passenger since the suspension becomes stiffer as the ride height drops slightly with the added weight. There are also other more subtle advantages to this set-up, but these are perhaps the two most significant ones. At the back that concept is continued with Malone's own single-sided swing-arm operating a single coil-over damper via another rising rate linkage.
Braking is provided courtesy of specially made 12" discs at the front clamped by AP Racing callipers running on Malone sourced racing hubs and fabricated hub carriers. At the back the original bike disc is retained but moved in-board and operated on by two Wilwood callipers, one for the handbrake and the other for conventional braking purposes.

For power the Skunk looks towards a number of shaft-driven 4-cylinder motorcycle engines. In the prototype is an air-cooled Yamaha XJ 900 unit (650 and 750cc versions also fit), but another obvious option is the water-cooled Suzuki GSX 1100. Taking power all the way to the back is a specially fabricated propshaft which ends with an in-board mounted rear hub before the final drive to the rear wheel is made by a conventional bike chain and sprocket set-up.

Whilst the Yamaha XJ900 has a 5-speed gearbox, the Suzuki can come with a 6-speed item, and all bike boxes are actuated sequentially. When it came to the gearshift, the original prototype had a conventional centre tunnel mounted gear stick. For the new car Malone wanted a race-car style 'paddle' change behind the steering wheel. As you'll find out, it's a bit of a revelation.

Elsewhere is the company's own steering column operating an Escort sourced rack fitted with quick ratio internals. The floor-mounted pedals are produced in house and can be adjusted for length by undoing two bolts and sliding them along a 'track'. Above the rear swing-arm is a 5-gallon fuel-tank over which will be a small fibreglass boot moulding accessible via a tiny boot lid.