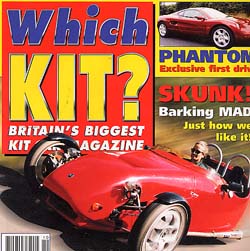 Exclusive First Drive
SKUNK SPORTS SPECIAL
Sweet Smell Of Success
Page 4
Half an hour into my test drive I'm hardly about to try out such antics but such is the feel of the Skunk that I'm certainly pushing on fast. The steering is excellent and the ride appears controlled and supple. As my confidence grows I start hitting the bends a bit harder and it's immediately obvious that limits of front-end adhesion are quite easily achieved - this is excellent news since it easily and safely tells the driver that he's pushing the boundaries. There's no guessing about how much further you can go since the Skunk is telling you exactly what's happening.
My lack of experience behind the wheel means I'm not quite into the three-wheel drift mode, but the car is predictably understeering, allowing me to easily scrub off speed by backing off the throttle slightly. Malone was just about to change the front tyres for slightly wider ones to give just a tad more grip and I tend to think he's right. Whilst highly predictable at the moment, the trike would certainly benefit from a bit more grip without losing too much (if any) feel.

A lorry almost stationary in the road as I come round a corner at speed certainly tests the brakes more than I would have wished. With a balance bar in the system, the front and rear braking forces can be tuned to perfection and the Skunk certainly stops pretty well. Once again, some slightly larger front tyres will increase the stopping potential a little and getting the balance between front and back right is essential for stable braking in a three-wheeler.
If there are negative features to the drive, then there a very fine vibration through the steering wheel at the moment which Malone has already solved in the production kits. There's also a lot of high pitched resonance from the body panels thanks to the stratospheric revs developed by the bike engine. There is no sound deadening at all on this prototype and the company is looking to source just the right material to use in the kits. At present it definitely detracts from the driving experience but I see no reason why it shouldn't be easily cured. Equally, the in-house designed seats currently lack sufficient side support but are otherwise very comfortable. Rearward visibility through the wing mirrors wasn't hot on this car, since they were a little too floppy and constantly needed adjustment - some nice bike mirrors might work better and look more in keeping.

A slight top-end misfire brings things to a slightly premature halt, but it's been more than enough to get a real feel for the Skunk's ability. Now it's time for the rather more painful discussion about costs. A Sport Special body/chassis package currently costs £2300 inclusive of VAT. Put simply, buy absolutely everything from Malone Designs less an engine and gearbox and you won't be getting much change from £9,900. The company is up front in suggesting that a really tidy example is going to set you back something like £11,000-£12,000. Only a Gaia Deltoid or Grinnall Scorpion can come up with figures like this, making the Skunk Sport Special one of the most expensive 3-wheelers on the market.
For those struggling to make the figures add up, then Malone Designs does offer an alternative model, the Skunk Sports, based around the suspension design used on the original prototype. Not only does this model have more conventional front suspension, but it retains the motorbike rear swing arm. It looks just like the Sports Special and still features items such as the paddle gearchange. However, the bike swing arm reduced the size of rear tyre you can fit, the front end doesn't not have the benefits of a rising rate suspension and the driveshaft has to be more offset in the cabin, thus reducing passenger space slightly. The upside is a complete kit cost from Malone of nearer £7500 and a completed example for under £8000.
For both models there are further options, such as stainless steel exhaust systems while something that might appeal is a reverse gear. Don't forget that a bike doesn't have such a thing, so you need to park carefully! Alternatively Formula 27 has recently developed an engine-driven reverse gear for its own bike-powered Blade 27 and Malone aims to use this same system if customers specify such a thing.

The Skunk is huge fun. I simply love the paddle gearchange, the bike engine is something completely different, the handling and ride are excellent, the steering feel precise and the styling is just perfect. The Skunk not only looks different, it sounds different and has race inspired features that make it not only perform well but become something of a talking point. It's also completely single-minded - don't expect a full windscreen and soft-top because there won't be any. Don't expect fancy interior trims or a hi-fi system since they all add unwanted weight. The Skunk is the nearest I've seen to a genuine three-wheeled motorbike and, as Malone Designs is at pains to point out, this is not a three-wheeled car.
If you're getting slightly tired of the usual 'alternative' kit car offerings then the Skunk is something completely fresh and fun. It's simple, stylish and strikingly different. If the kit car industry is all about offering something novel, ingenious and utterly unobtainable from the mainstream world, then from its paddle gearshift to 290kg all-up weight, the Skunk is leading from the front. We wish it every success.
For more information contact Malone Car company, Volehouse, West Putford, Holsworthy, Devon EX22 7XH. Tel: 01409 241044